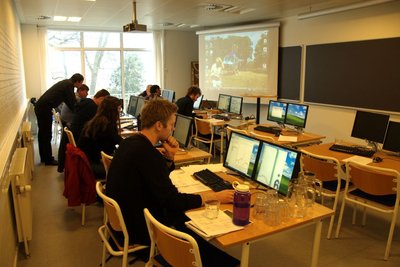 In the short-course we will work in detail with the processing and inversion of airborne electromagnetic data in the software, Aarhus Workbench. (For more information on the software go to www.aarhusgeosoftware.com).
Some familiarity with airborne methods and Aarhus Workbench would be an advantage, but not a must.
In Denmark, large amounts of airborne electromagnetic data have been collected. 40% of the nation has been mapped with AEM, and all data were processed and inverted in Aarhus Workbench. The processing and inversion module is comprehensive and has many parameter settings to ensure optimum quality of the processing and a fast workflow.
During the course we will discuss not only the parameters and their significance for the results, but also how to incorporate an optimum workflow.

The course deals with subjects as:
Data import, raw data format, coordinate settings, stacking, subdivision etc.

Automatic data processing - optimization of processing parameters based on the current survey.

Manual processing.

Setup of Laterally Constrained Inversion/Spatially Constrained Inversion. Both many- and few-layer interpretations.

Scaling of lateral ties.

Adjustment of the processing based on automatic inversion.

Evaluation of inversion results and preparation of relevant quality control maps
Lessons are given as lectures and exercises. The course partcipants will be working in a recently collected airborne electromagnetic dataset, which provides state-of-the-art data quality and resolution.
The course appeals to consultants, goverment agencies, and researchers working with processing and interpretation of airborne electromagnetic data. It is also recommended to participate in the course even though you don't work with processing and inversion of airborne electromagnetic data, but with data interpretation, integration, and visualization of the results. The course will provide insight into the workflow, and hence into the limitations and advantages of the final inversion results.
Program and course literature
To be announced
Price and requirements
To be announced